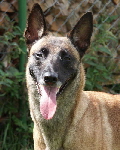 Enya is an open, friendly, always happy dog. She is very social with people as well as with ther dogs (as long as they don't bother her:-). She has always been environmentally sound in all situations, slippery floors, dark buildings, open metal staircases, sounds etc.
Living with her is really easy and relaxed, and lots of fun!
Enya has a very high temperament and an extraordinary play drive. She is very fast and agile, with an excellent body consciousness (she likes climbing, which sometimes ends up a little dangerous:). Always eager to work and play, she is very easy to train and has a strong "will to please".
Despite her extreme passion for work of any kind she can also relax when training is finished, and in the house you hardly notice her at all.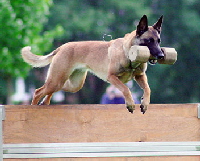 ..................................
In obedience Enya was always very easy to train, since puppy days she's been able to concentrate strongly and at the same time she's never tired to train, always demanding to carry on with work.
She is easily motivated with food or prey, and "prey" to her means anything she's allowed to carry - coke tins and water bottles will do just as good as a ball. She is intelligent, active -a really perfect obedience-dog.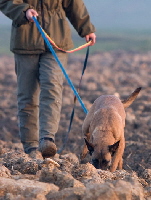 .....................................
Tracking would probably have been very easy with Enya as well, but I made quite a few mistakes, so our tracking results have never been really good up to now (edit 2010: We made it!:)).
Enya's ability to concentrate despite her high drive helps a lot in tracking, and even when she looses the track she never gives up and keeps fighting. Her passion for tracking and any kind of nose work is very strong, and she passes that on to her offspring as well.
....................................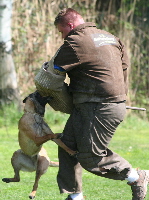 In protection work Enya shows very good. She is very fast, with nice prey drive and good aggression, and good grips. She gets a little edgy sometimes, but stays clear in her head and fairly easy to control (well, mostly:).
More photos and videos of Enya you find here.